You are here: Home / Blog Tips & Insight /  Review: The Trustpilots Experience (If You Think The Training is Outdated)
Hello ALL I wanted to share this link=>> Wealthy Affiliate Training Outdated,<<== to my Scam page.
Trustpilot: Helping companies up their game?
Name:  Trustpilot
Website: https://ca.trustpilot.com/
Price: This site offers freemium (limited free trial) + monthly @ $199.00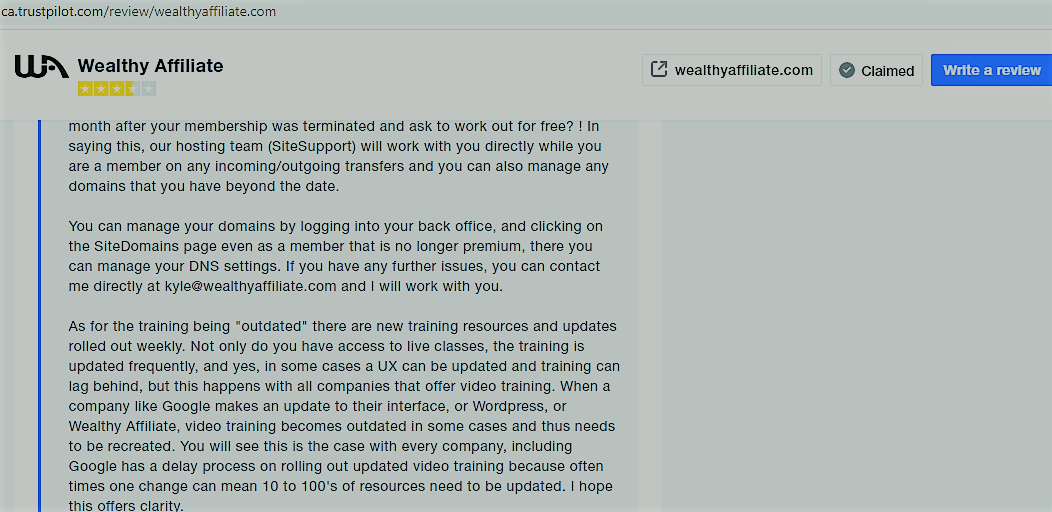 Owner(s): Peter Holten Mühlmann
Alexa ranking: #353
 This website contains affiliate links, which means I earn money from products and services you purchase through my links.
---
By FADEDKINECTION.
The Product
Trustpilot, whose software premise sounds like improving the customer experience is their aim, was founded in Copenhagen, Denmark in 2007.  Their running experience as a company–has its legitimacy stem from offering businesses worldwide a service into which provides a connection for collecting and responding to reviews for free. (Using a technology similar to Google Analytics.)
The use of the platform's capabilities (if you are fixed on influencing consumers) can be regarded as a reasonable tool of opportunity for seizing the fruit of competitive market intelligence. There can be no shortage of power for a subscriber who is sharp at developing ways to help others or themselves game up off reviews.
But is improving customer experience their primary goal?
Believe it or not, I think getting clientele use to having exceptional customer experience should be regarded by businesses.
There are plenty of folks online–all over the world, every day without a clue how beneficial it would be for them to partake (like-a-scientist) the experience a consumer's (reporting) review can offer.
Since different ways improve customer experience. In my attempt to uncover some basics about this foundation's model,  I hope to open your eyes to a potential "consumer review website" which it claims to be able to offer as a business service, reports to keep you & Me steps ahead of our competitors.
I am going to push your mood around thru some real simple insight(s) about Trustpilot's reach–generating reviews that boast to improve our digital marketing performance, but does it also improve the user experience too?  These are service components that should be about how to improve the user experience too–which I didn't discover since learning of Trustpilot– on how their (reporting) reviews are supposed to yield concrete results…
My goal is to help you decide whether or not this platform (or others like it) in enhancing customer experience could help you (or me) in accelerating our skill(s). Our digital customer experience should never be taken for granted in using specialized analytics & marketing software as Trustpilot uses "which claim" it leverages more than 228,000 brand reviews.
Meanwhile, in observing the user experience, I find having a digital customer experience strategy isn't a bad idea, after all, who wants to be scammed?
So before I get started on what we can do to better the user experience I want to point out and to clarify a piece of information that I think is of keen importance to remember:
Caution yourself here,  because I don't know if this website design user experience is the customer experience solution that is (as far as I know) the best customer experience to buy into, when "anyone" can post on Trustpilots platform.
I think to improve your customer experience putting this out there to ponder will help place things into proper perspective going over what circuit this company's international growth.
Reading this hopefully might define customer experience in a new light (compared to other companies "or not" in the same industry) I hope you gain new insight about this (one) particular company's aim of making any if not all businesses better.
---
Pros vs Cons
Why, unfortunately is the online customer experience that the company (Trustpilot) has critically been exposed of — in allowing bad reviews NOT a big deal?
Trustpilot is treading as if such criticism really doesn't matter much or as if it didn't happen to be that big of a deal where great customer experience holds up in a lesser spotlight.
I find this distracting for new subscribers (who may shy away from being recruited) and that it ought to be a major concern regarding (their automatic sent out product-specific review via invitation with every purchase) plenty of their other collected (reporting) reviews just may also be deemed "fabricated" material.
There is a small ear full of pros and a lot of cons with Trustpilot mapping customer experience. Although it seems to be a decent review platform, the challenges I think an online user experience SHOULD NOT BE ABOUT are indeed alarming.  Especially after reading what aroused when the website user experience blatantly reveals there are those (businesses or consumers) who use the service–to shockingly find themselves confronted by poor business practices, which typically creates suspicion.
THIS SHOULD NOT HAPPEN..
If the goal of the platform is simply tied into managing customer experience is to get the inside story of shoppers which are supposed to help in sharing the reviews–of any select consumer-product reporting. That as a result should attract even more subscribers who ideally are supposed to bring again into the fold even more positive customer experience, not bad ones!
Here is the breakdown of the Pros and Cons of the Trustpilots–consumer review platform:
Pros:
As a result, they host an international position that employs about 700, and roughly 1,000,000 new reviews are posted on its platform each month.

Has consistent customer/consumer feedback & reputation the platform delivers "finished product" and "trying to deliver product"–performance with "ease of use."
Cons:
The cost of their monthly premium is pricey.

 Trustpilot insist that it strives to deal in authenticity. Even though it has all of the common & critical attributes of bad business practices.

Slow responses from the customer service team are (serious enough to affect the likelihood of a recommendation.)

Has had review policy criticized for claims regarding fake reviewers on stealing identities to real people/companies to build up fraudulent reputations.

A business/company can pay to have controversial/negative feedback and or reviews removed that deal with complaints about its existent practices.

No governance over suspicious or fabricated comments/feedback/review that could lead to misleading reputations.
---
Who is Trustpilot Intended for?
They claim to serve all of the internet's economy. Meaning their platform collects reviews no matter the kind of services you provide whether it be retail, e-commerce, travels, Insurance, auto or consumer goods, etcetera. Sounds like they have all the bases covered. However, that may not be enough to turn around experiences impacted by suspicious/negative feedback.  The fact anyone can post a review, what happens if some heartfelt review intended to affect the legitimacy of some company's reputation is posted in an unethical way to persuade people away from the validity a business holds?
Consumers, other businesses, and people alike who are sensitive to needs and wants related to credibility for establishing trust will have become essentially scarred trying to ensure themselves away to a company's future-proof.
Here is a break down of how the platform's model work

Confused? Well, that is because the more you dig it becomes apparent to you (or any watchful eye) where a business owner or consumer are not protected from a scam and fake reviews. And if such opportunity avails how a loophole thus applying a little imagination one can see clearly where a company could easily force their workers to comment positively–if in event THAT ISN'T THE CASE given rise to misleading reputations.
Tired of relentless business practices and little to no governance?
---
Trustpilots Service & Product
There are three (3) different layers to Trustpilot's business plans & two (2) comparable plan features #1. Free and #2. Standard. The #2. Standard is the one that has an additional pricing point for access to add-on modules with additional features. The additional service features are like a boost of everything your get purchasing the Standard plan.
I think the #1. The free plan is really the better deals having access to a Trustpilot account..
Why? Because although you have limited access + pop-up Ads you are not limited in Social Sharing (if you have your own Facebook, Linkedin & Twitter accounts) of 100 review invitations to invite customers you want to share your review reports with.
Keep in mind there is a lot of emphasis on getting unlimited access because of the optional add-on module product. This is the service product that both encourages you to start enhancing & strengthening your online reputation which will offer you an advanced profile page targeted at consumers shopping in your brand's market.
That's what this is all about. Inviting shoppers. Converting shoppers. Enhancing consumer's experience thru your profile page. Not a bad scheme if consumers are buying. But if nobody is buying into the solution (review reporting) you may need for building a larger business. Whether it be for the short term or long,  do you expect to earn real money online showcasing reviews (costing you $199 per month) in your applied niche or by promoting your company's primary focus? How?
---
Does Trustpilot offer ANY support?
If you are the type of business/consumer/customer that benefits best from a personal support system, Trustpilot is not going to be worth the money. There is no training or support without an extra cost. (From $199 per month & based on the add-on module you do get for complex integrations & analytics the 3rd layer business plan.)  I never recommend a business service that does not offer personal support in which you do not even have direct access or help from the owners. In this light, you may never have any meaningful contact with the owners directly. And, perhaps that doesn't bother you however this is a company that employs about 700 people you best believe that the owners are active in the promotion and motivating the base workers to promote, well?
---
How Much Does Trustpilot Cost Showcasing Trust Online?
The pricing of Trustpilot from $199.00 per month isn't complex when it comes to showing & growing a brand's trust.
The $199.00 fee in fact maybe just right creating the connection to get closer to your customer and strengthening your impression power every month going forward. Other than the fact Trustpilot has an international presence, there exists nothing unique about this company's service. And you can get a much better platform alignment. Where you won't be subjected to the monthly high-ticket cost, using review content online & offline in marketing with social media profiles included.
Plus, if you really don't know (Please let me know in reply/comments below this review or follow the link:) you can actually get 10x the review service production, building out & showcasing trust online in less than a fraction of the cost you'd pay during the course of a year to Trustpilot, and be prepared to let go of Trustpilot all together.
In thinking about how much does Trustpilot cost showcasing trust online…
**In comparison, you can get started NOW and get full support for completely FREE from experts…this includes FULL 1-on-1 mentoring and support and the owners are actively involved.
---
My Final Word On (When You Can't Afford) Trustpilot
Do you have a personal review or complaint that you would like to share about Trustpilot?  If you do, I would appreciate it if you could leave your comments/experiences below!  Thanks!
Walt
Owner, fadedkinection.com